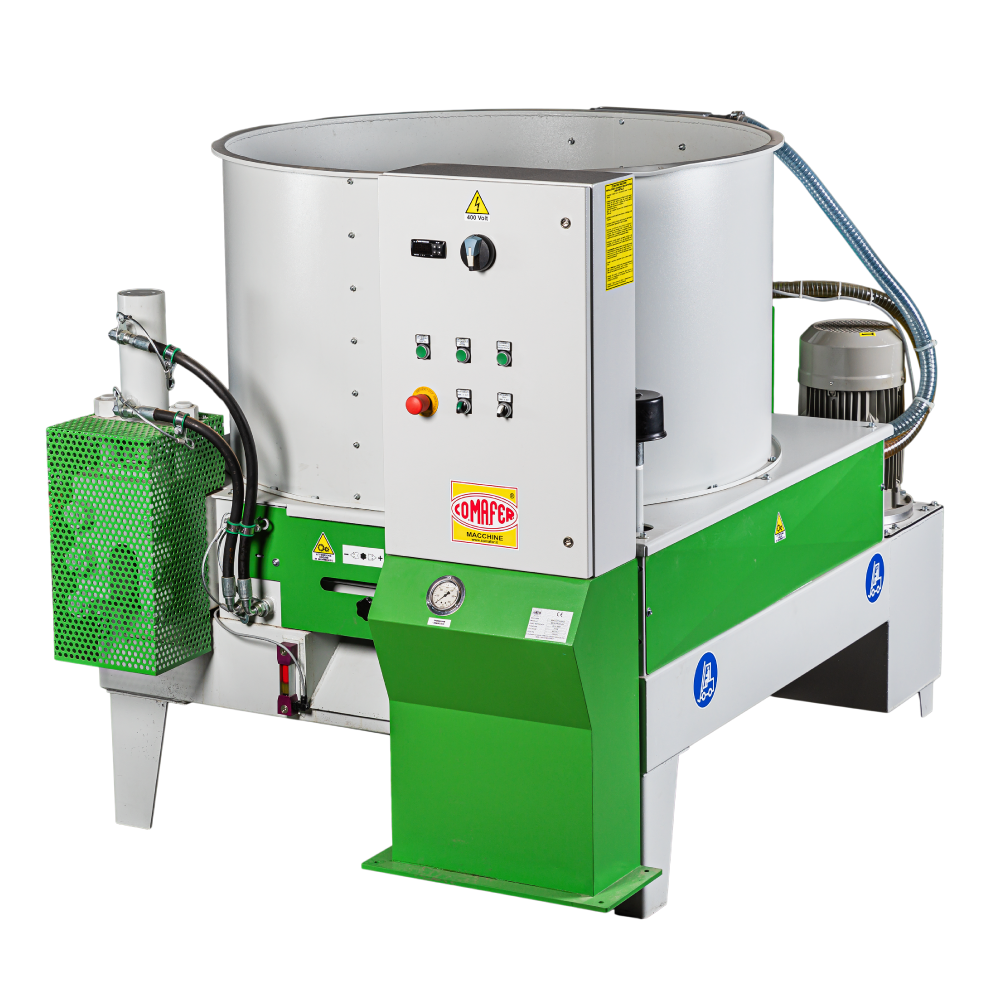 METALPRESS Metal briquetting presses
Metalpress 400 EVO briquetting press
This is the briquetting press apt to be installed in medium-big sized companies. 
This product is a hydraulic machine for recycling metal chips (which, if necessary, can also be shredded depending on the screen mounted on the shredder) from mechanical processes and transforming them into cylindrical briquettes offering considerable advantages. It is designed for being applied to loading units indoors or outdoors.
Operation
It is based on a mechanical and hydraulic cycle of high-pressure compacting. A material containment hopper is fastened to a loading bed consisting of a radial loader, which by rotating feeds the material into a box controlled by a hydraulic cylinder that pre-compresses the material before it reaches the compression chamber. A special hydraulic compression cylinder then compresses the material in the sleeve-bulkhead unit.
The advantages of our products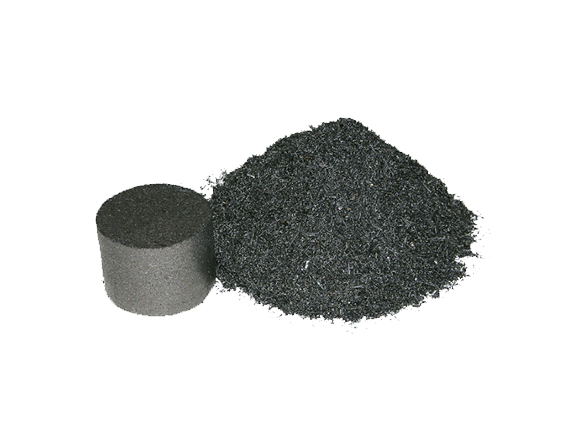 Reduction in volume –90%
Briquettes allow for sensibly reducing the bulk (depending on the type of material), making work environments considerably more organised and efficient. You can use new spaces to store products and for the production lines.
Reduction in volume –90%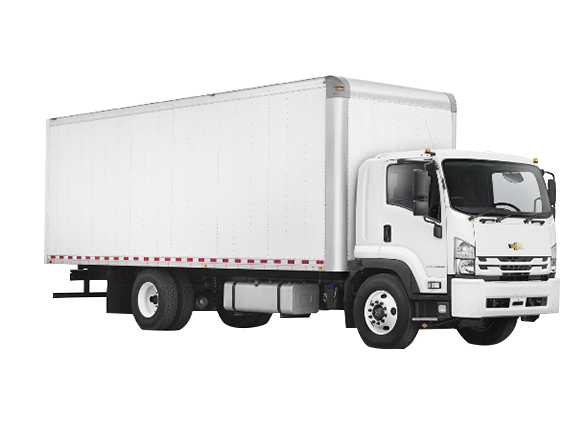 Lower handling/transport costs –80%
The transformation of metal scrap and chips into compact briquettes ensures easy and practical handling, thus reducing internal and external transport costs (use of the forklift truck and, consequently, the time operators dedicate to collecting scrap).
Lower handling/transport costs –80%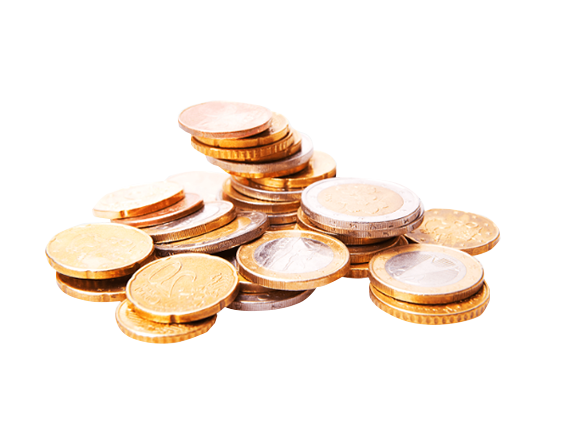 Lower recycling costs –70%
The lower transport costs for scrap have a direct impact on the sales margin at the collection facilities. Compacted scrap can constitute a valuable source of income.
Lower recycling costs –70%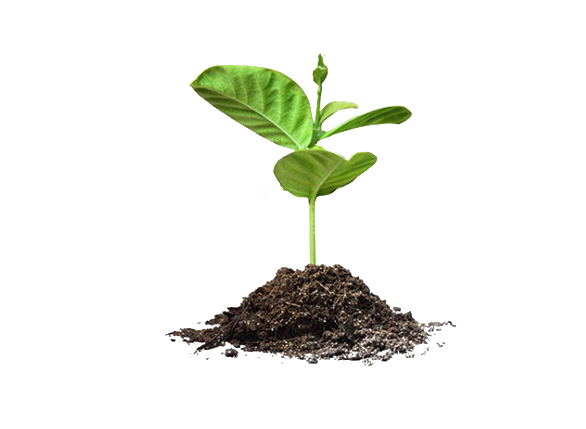 Lower environmental impact
Briquettes allow for reducing the environmental impact due to the conditions and state of the container or collection facilities, which are often not in a good state.
Lower environmental impact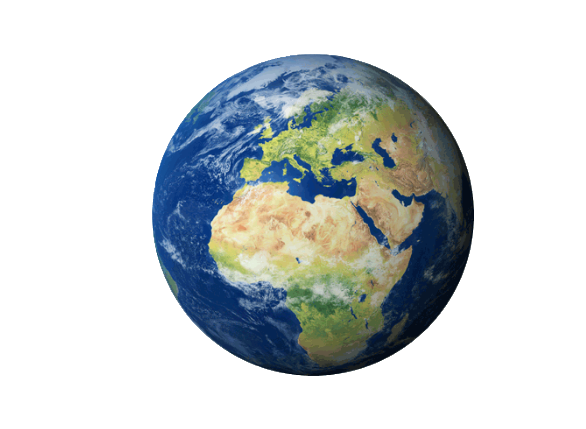 Lower environmental pollution –70%
Thanks to briquettes, the number of container voyages can be drastically reduced, resulting in 70% less fumes released into the atmosphere for transporting scrap to the collection facilities.
Lower environmental pollution –70%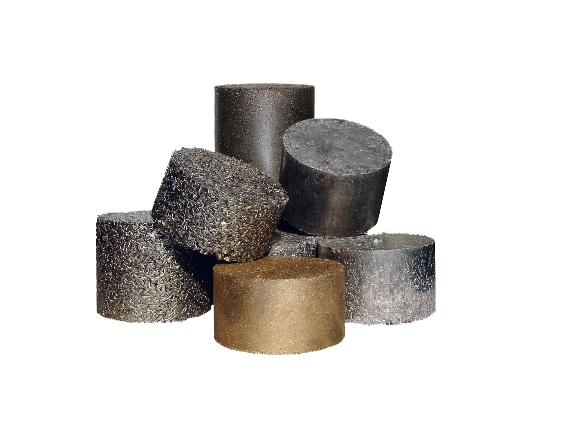 Increase in value and yield during melting +90%
Briquettes intended for foundries have a higher commercial value compared to chips, as during the melting phase their yield increases sensibly by up to 90% compared to chips, depending on the type of material. Their essential characteristic lies in their extremely high compacting pressures, which makes them qualitatively better compared to simple chips exposed to the elements and subject to oxidation, reductions and shrinkages. Moreover, thanks to their far lower percentage of oils compared to damp chips, which require pre-treating, they can be loaded immediately into the melting furnaces and crucibles, resulting in considerably shorter times, significant energy saving and a considerable reduction in the risk of particle deposits on the walls of the furnaces and crucibles.
Increase in value and yield during melting +90%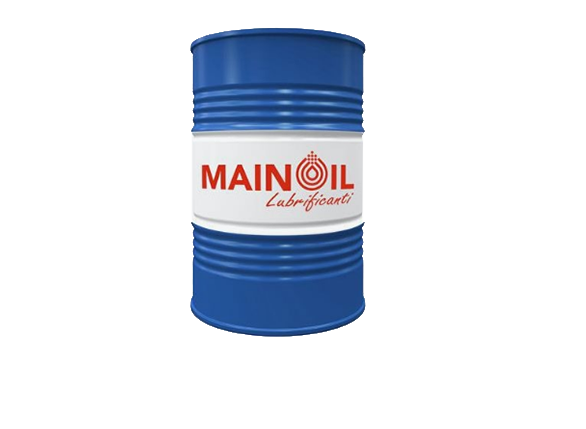 Recovery of any oils present
Any costly oils present in the chips that leak during the pressing phase can be largely recovered and reused, with a considerable reduction in the purchase prices.
Recovery of any oils present
The components that make our products exclusive
Technical characteristics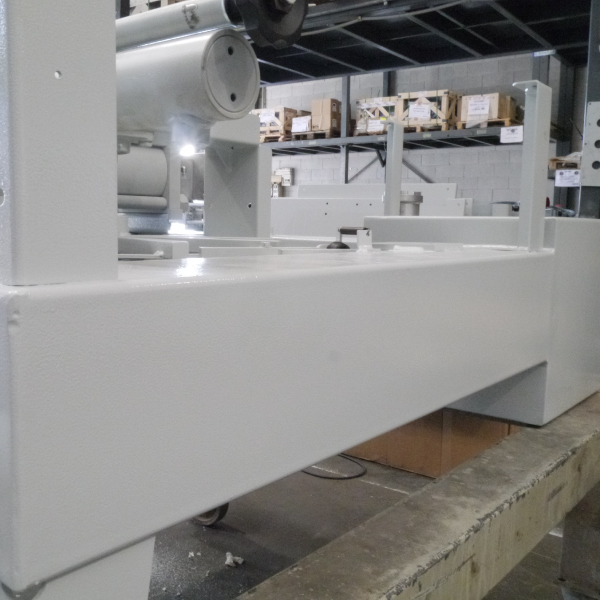 Base unit and oil tank
Base unit and oil tank designed and optimised through many years' experience, composed of a sturdy rectangular frame in square steel piping that has been arc welded and powder coated. In addition to its support function, it also acts as the oil tank for hydraulic elements. Mounted on the base unit is an IE3 Premium efficiency electric motor, connected to a Casappa hydraulic pump to pressurise the system, a centrifugal oil-recirculation pump, an oil-filtration device, an output pipe with air filter and for oil refill, and an electric oil-level sensor that stops the machine in the event of a leak.
Base unit and oil tank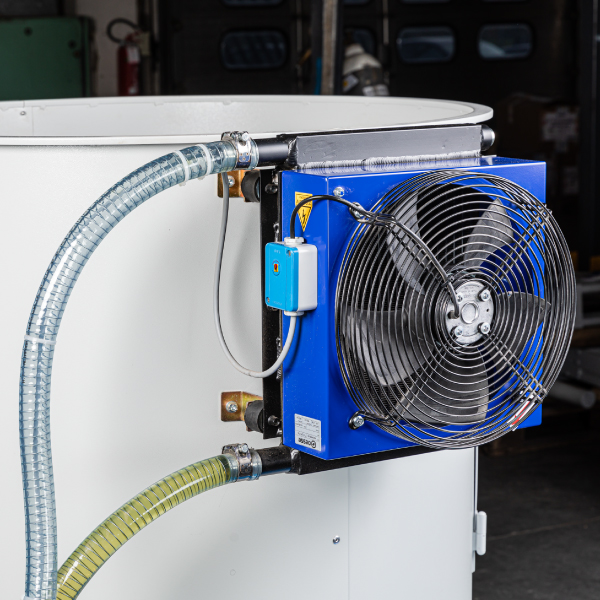 Oil cooling unit
Oil cooling unit composed of a centrifugal pump that draws oil from the tank and sends it to an Oesse closed-circuit air/oil heat exchanger, optimising cooling and avoiding deterioration and consequent wear of components. This eliminates the problem of continual water consumption and the possible formation of limescale, improving overall machine performance and enabling concrete savings in terms of maintenance.
Oil cooling unit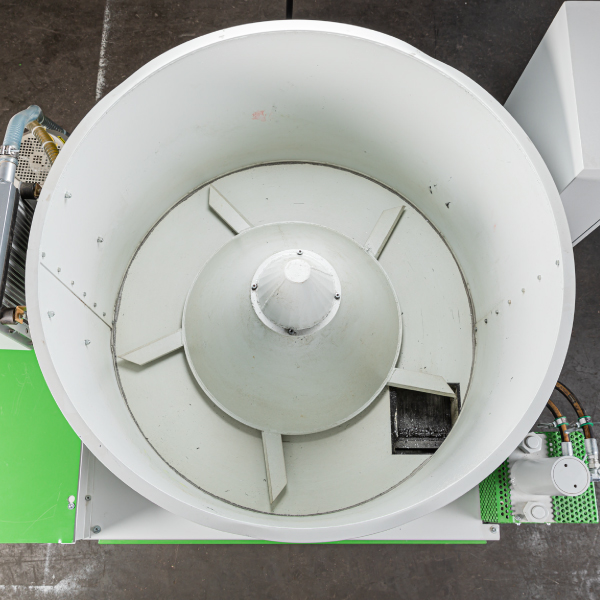 Loading unit
The loading unit has been designed for optimum functionality, with a material loading hopper with flush steel wheel stirrer on the bottom that rotates via a dedicated Brevini geared motor, feeding material into a fixed chamber containing a moving box.

 
Loading unit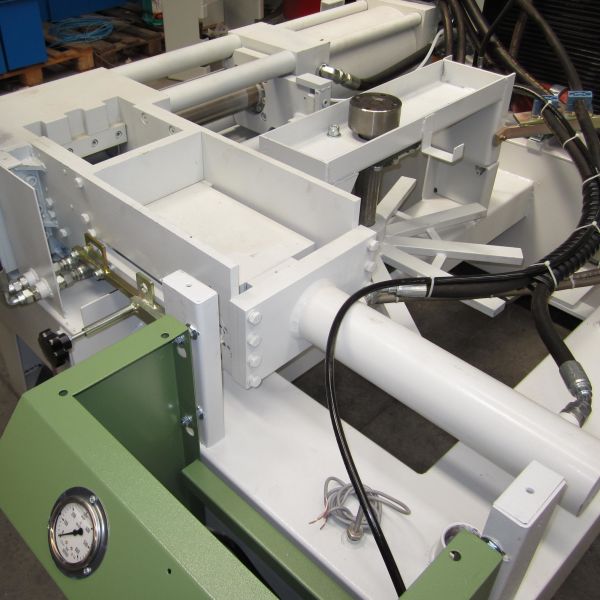 Box unit
The box unit is composed of a hydraulic cylinder with Parker seals and excellent build quality and reliability (with position detected by proximity sensors and mechanical limit switches) that activates the adjustable moving box in order to portion and pre-compress the material, transferring it from the material loading hopper to a compression chamber.
Box unit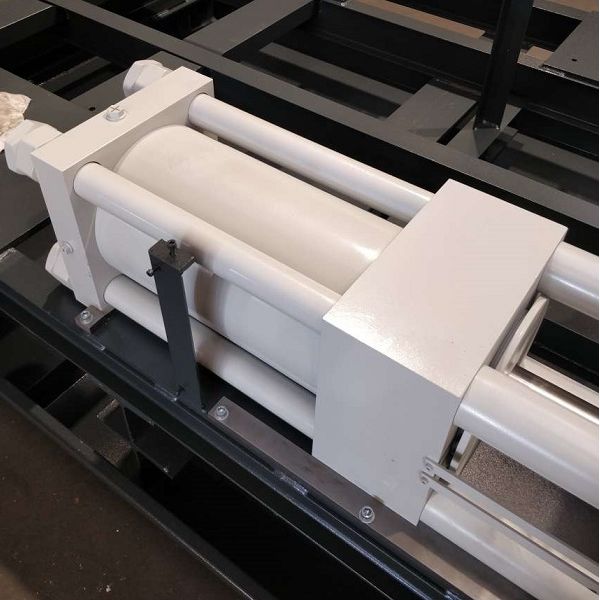 Compressor unit
Compressor unit composed of a hydraulic compression cylinder with two coaxial sections for maximum operating speed and optimisation of hourly production at the same installed power, featuring Parker seals and excellent built quality and reliability (with position detected by proximity sensors) equipped with a press (K100) that compresses the material within a compression chamber formed of two sleeves (K110), thus creating the briquette.
Compressor unit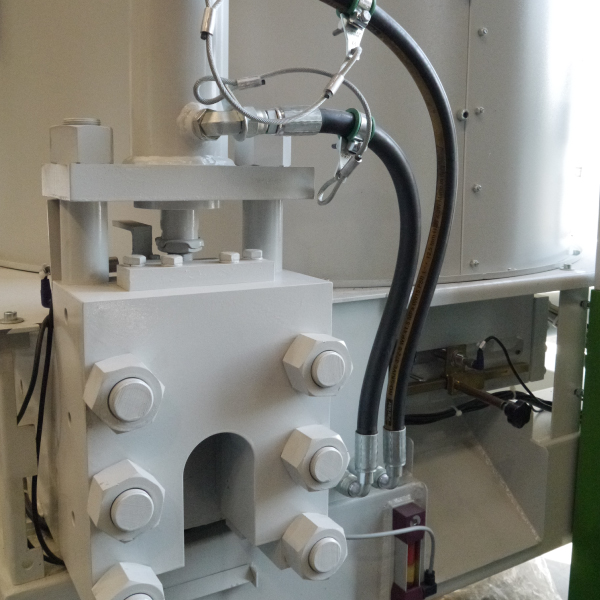 Bulkhead unit
Bulkhead unit composed of a bulkhead with hydraulic cylinder of high quality and reliability (with position detected by mechanical limit switches) within which the briquette is held during compression and released once the specific pressure required for briquette formation is reached.

 
Bulkhead unit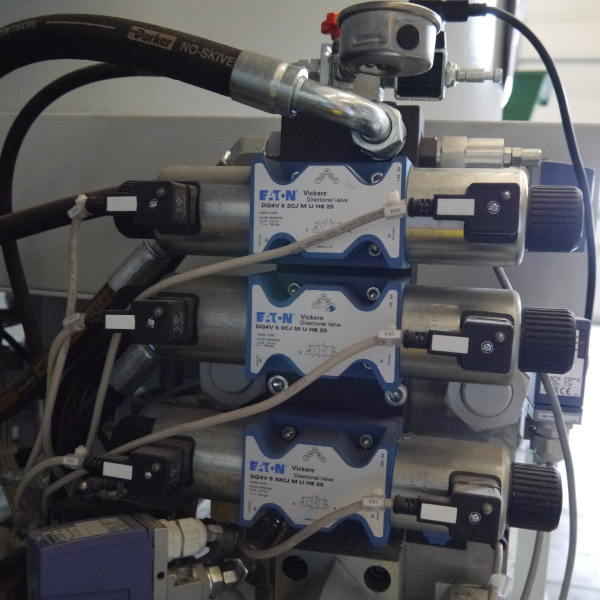 Hydraulic components
High-performance, high-reliability hydraulic components manage the operating phases of the machine's briquetting cycle. An exclusive block (manifold master) acts as a connection node for all hydraulic components. Movement of cylinders is managed by three Eaton solenoid valves.

 
Hydraulic components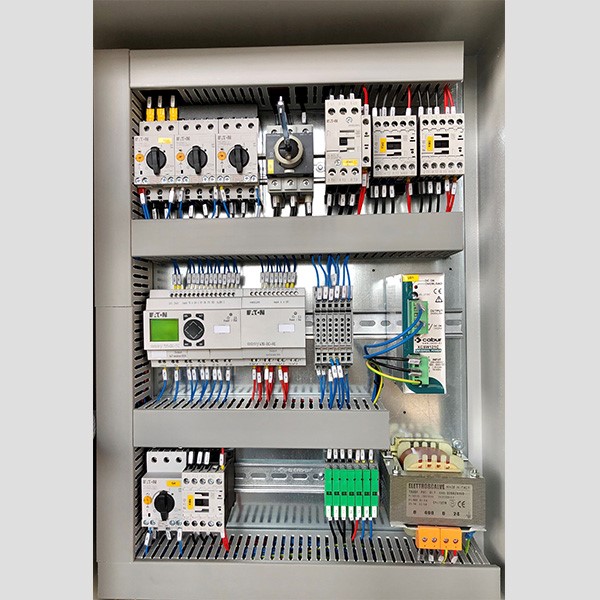 Electric control panel
IP 55 electric control panel equipped with digital thermostat for electric control of oil temperature and an Eaton PLC for electronic control of the production process.

 
Electric control panel
Technical data
Approximate output
Kg/h
100 ÷ 400
Briquette
Ø mm
70
Box cylinder
Ø mm
70
Compression cylinder
Ø mm
190
Maximum compacting pressure on the briquette
bar
1800
Pump motor power
kW
11
Total installed power
kW
13.5
Voltage
Volt/Hz
400 / 50
Hopper
Ø mm
1200
Briquetting press dimensions
L (mm)

W (mm)

H (mm)
1360

1980

1500
Weight (kg)
Kg
1400